Have you heard our Space Studio West London adverts on Radio Jackie?
Patrick Chimes, a former NASA telecommunications engineer did – all the way from his home in Dickinson, Texas!
Our adverts, promoting the Year 10 & 12 places available at the school, are currently being aired on Radio Jackie. Patrick, who grew up in Shepperton, heard them via his internet radio.
He decided to get in touch after hearing about the school's link with NASA.
Patrick, who was once presented with a coveted Silver Snoopy, hosted a discussion and Q&A session for our Space Studio Year 10 students revealing all about his fascinating career with NASA.
Space Studio is a STEM-focused school and many of the students have aspirations to work in engineering or the space industry.
Stephanie Lee, Careers Lead at SSWL, said: ''During the presentation, Patrick described his experience at NASA and points of interest in his life.
The session was well received among the Year 10 students with great interaction during the Q&A session at the end of the presentation."
Patrick worked at the NASA Johnson Space Center (JSC) as a telecommunication's engineer for 40 years before recently retiring.
He said: ''I enjoyed my talk with the students at Space Studio West London.
''After hearing the advert on Radio Jackie I decided to get in touch as I grew up in Shepperton and ran the athletics team at Feltham AC in the 1970s. I left England when I was 20.''
Patrick's impressive career started with an apprenticeship as a telephone technician with the Post Office (now BT/British Telecom) and a place at Brooklands Technical College.
Patrick went on to study for a BS degree in Electrical Engineering Technology from Murray State University KY USA.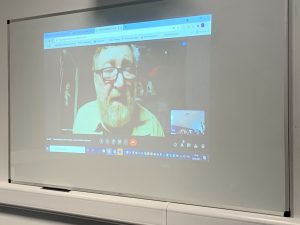 Revealing all about his job roles at NASA, Patrick said: ''I worked on the voice communication systems in Mission Control and expanded them to meet the needs of the Space Shuttle ground controllers.
''I moved to the Television and Photography department and worked on television and audio recording and ground distribution systems for the Space Shuttle Program and the International Space Station (ISS).  My work on the ISS involved technical discussions and agreements with the ISS partners from Russia, Italy, Japan, Canada and the European Space Agency.''
Before retiring, Patrick worked on planning for the Artemis 1 mission, the Gateway and the Human Landing System (for the lunar surface).
Patrick's Silver Snoopy was presented to him by Shuttle Commander Steven Lindsey. The retired astronaut served as chief of the NASA Astronaut Office from September 2006 until October 2009.
The Silver Snoopy best symbolises the intent and spirit of Space Flight Awareness. An astronaut always presents the Silver Snoopy because it is the astronaut's own award for outstanding performance contributing to flight safety and mission success.
After a 40-year career at NASA, Patrick is now enjoying his retirement with his wife and their cats, dog and a horse.