When Andomski Rodrigues discovered his work experience had been cancelled due to the coronavirus outbreak, he could have easily resigned himself to the circumstances he faced.
Instead the aspiring doctor revealed his desire to succeed against the odds.
The Space Studio West London student came up with the idea of arranging a virtual talk with an entrepreneur on the other side of the world.
In a case of life imitating school work, Andomski's resilience and agile thinking epitomised the spirit of the Extended Project Qualification (EPQ), he was working on.
Andomski, 18, had originally arranged his own work experience at The Brilliant Restaurant, Southall, over the Easter break. When it was cancelled, he reached out to family friend Trena Fernandes, an entrepreneur in India who sold baked goods.
Andomski found his discussion with Trena extremely useful for his research: "Trena taught me marketing strategies that she uses, and how colour influences her business choices.
"Although I wasn't able to complete my work experience, I found my talk with Trena really useful because I got data for my project whilst understanding the business model she uses for her own business, and her do's and don'ts for starting a career in baking" Andomski added.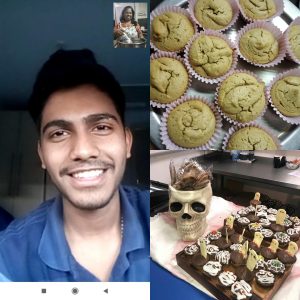 Andomski is hoping to pursue a career in medicine, so selecting baked goods as the topic of his EPQ may be considered a strange choice.
But as he admits: "I have never baked before! I wanted to do something out of the box.
"You need to be precise with measurements, which is similar to the precision required for medicine. And now I have a new hobby!"
Peter Brozny, Head of Science and who oversees the students EPQ journeys at Space Studio, commended Andomski for his commitment to the Extended Project.
Peter explained: "He began by meeting with Celina [school chef], and had to figure out which dietary and budgetary constraints the school kitchen has to work with.
"He then had to adapt and do his own thing, and decided to produce cupcakes with her in the kitchen, to see if his ideas on the influence of colour would actually increase sales.
"In line with his marketing theory, he discovered that students were more likely to buy red cupcakes than any other colour."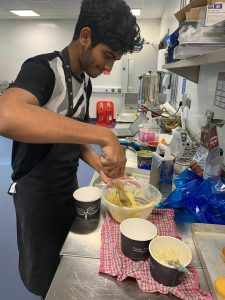 After working in the school canteen, he wanted to broaden his industry knowledge by gaining some work experience and, with help of Careers Lead Stephanie Lee, secured a placement at The Brilliant Restaurant.
"When that unfortunately collapsed due to the outbreak, he once again used his initiative to line something else up, by learning vital business lessons from an entrepreneur in India.
The EPQ is a project that sixth formers can complete, consisting of a 5,000-word-report on a topic of their choice, and is the subsequent of half of an A-Level. In terms of UCAS points, it is actually more valuable than the equivalent grade in an AS Level.
A key criterion on which the students are assessed is their ability to 'develop and realise', which means that a major part of their overall mark derives from problem-solving and overcoming obstacles.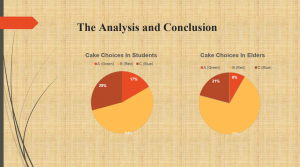 Each of the students faced obstacles in some form due to the pandemic, including having to present their projects virtually via Google Meets, instead of the regular face-to-face format.
Peter said: "Normally, everybody presenting their projects would be off timetable for the day, and the students will all present to myself and other members of staff, and they get that face-to-face environment.
"Obviously, this year, it had to be completed virtually, which is a little less natural for them, making it a slightly more difficult exercise.
"They all presented really well, and Andomski even presented in a full suit!" He added.
Mr Brozny, who also teaches Chemistry and Psychology at Space Studio, has been overseeing the students completing Extended Projects for three years, and believes that the project instils the values of independent learning in students, better preparing them for university learning.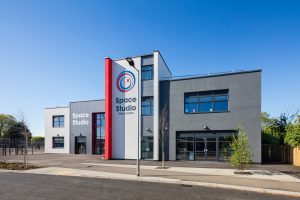 "My favourite thing about overseeing the EPQ is that it allows me to build a really good relationship with the students.
"Instead of writing generic statements to describe them in personal statements, I can write meaningful statements that describe them academically and personally, as I have witnessed and evidenced their growth" Peter added.